BTS Pilgrimage to Jimin's Hometown, Geumjeong-gu, Busan
Ratings

No rating

Views

21176

Review

0
BTS ranked top on the Billboard charts, won a Grammy award, and had 62 concerts (Love Yourself / Speak Yourself) as part of their 2018–19 world tour. BTS has had an astonishing run of setting and breaking records.
Jimin is a member of a globally famous idol group BTS, nicknamed the "fan-making fairy." What did Jimin's childhood look like? By traveling around Geumjeong-gu, Jimin's hometown, you'll find the traces of Jimin, who is known as the "fan attractor" among the BTS members.
Jimin Tour Course
Hoedong Maru(Former Hoedong Elementary School) – Dadaepo Beach - Sunset Fountain of Dreams
The first destination is Hoedong Elementary School, where Jimin attended. Unfortunately, the school was closed in 2018 and renamed Hoedong Maru. After realizing that his former school was being transformed into a creative experience, Jimin sent his congratulations in person to celebrate the opening of Hoedong Maru.
Hoedong Maru is a place still filled with children's laughter, consisting of the Nutrition Experience Center and the Creative Factory. At the Nutrition Experience Center, children can learn how to maintain a healthy life by using all their five senses. They participate in nutrition education programs associated with the official school curriculum that involves nutrition experience, cooking class, and gardening. The school offers various age-appropriate programs, particularly drawing attention from international ARMYs (the fan base of BTS) interested in Korean cuisine. At the Creative Factory, it's possible to create diverse products using wood, fabrics, recyclable materials, 3D printers, and 3D pens. It's the most beloved place for children to learn about their career paths.

Apart from Hoedong Maru, another must-visit place in Geumjeong-gu is a famous café close to Oncheonjang Station on Busan Metro Line. Equipped with its own roasting facility, this café is known for producing the winner of the 2019 World Barista Championship. Every season, new fruit beverages are launched in collaboration with local farms. At the bakery, the smell of freshly baked bread will put you in a good mood. The tranquil scenery of the café garden went viral on social media. It's a perfect place to take a rest and curb your travel fatigue.
It's Dadaepo Beach! In 2016, Jimin visited Dadaepo Beach, with its stunning view of the sunset, and made a wish for the new year. Jimin posed for a photo looking as if he supported the sun turning red and going down on his hand. Since then, this pose has been ARMYs' favorite. Dadaepo Beach is located where Nakdonggang Estuary meets the South Sea. It is the world's most beautiful sunset and a tourist destination often visited by travelers who fall in love with the scenery of the cozy sea with golden waves. In addition, a water show accompanied by BTS's music is often held on BTS's anniversaries (such as debut date and fan meeting date) at the Sunset Fountain of Dreams, the pride of Dadaepo Beach.
Jimin spent his childhood in the romantic city Busan, dreaming of becoming a singer.
Now, he's a globally renowned singer, but he was once a kid, coming home from school with a snack in his mouth. Taking a walk around a place full of memories itself can make your heart go pit-a-pat even more if these memories belong to your favorite star!
Related Tags
Recommended Tour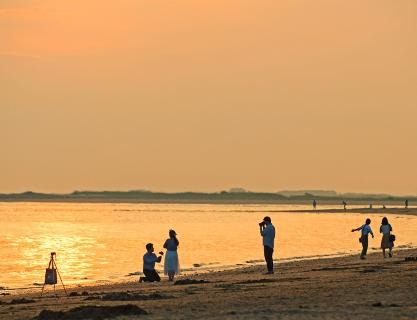 1

Beautiful everywhere, Dadaepo Beach
Dadaepo Beach, where Nakdonggang River and the South Sea meet, allows you to enjoy the beauty of nature with Busan's sunrise, sunset, and sandy beach.
#BusanTour #DadaepoSunsetFountain #BusanRomanticDestination #BusanOceanTravel #PlacetoVisitInBusan #DadaepoBeach #BusanBeach #BusanSunset #WithFriends #WithChildren #WithFamily #Nature #ViewPoint #PhotoSpot #OceanTour
There is no registered content.
There is no registered content.
There is no registered content.
Ratings

{{item.star_grade}}
null
Like
{{item.like_cnt}}
null
{{item.visit_yn == 'Y' ? 'Visited' : 'Did not visit'}}