BTS Pilgrimage to Jungkook's Hometown, Mandeok-dong, Busan
Ratings

5.0

Views

63151

Review

2
BTS: Famous for having 3 no. 1 albums in less than a year on the Billboard charts as of November 2019!
Even if you're not familiar with K-pop idols, you must have heard of BTS, whose members have a special relationship with Busan. This is because Jimin and Jungkook of this seven-person idol group come from Busan.
Today, you can follow the memories and traces of Jungkook, the youngest member of the BTS, who spent his childhood in Mandeok-dong. It would also be great to listen to one of BTS's songs associated with each destination.
Jungkook Tour Course
Baekyang Elementary School - Baekyang Middle School - Mandeok Lego Village - Mandeok Duck Folk Village - Seokbulsa Temple
The first place you'll visit is Baekyang Elementary School. This is the elementary school Jungkook attended from grades 1–6. The schoolyard on which Jungkook must have found it fun to play is still filled with children's laughter. Perhaps, Jungkook's love and passion for sports can be traced back to this place. It would be fun to imagine Jungkook on his way to school on this path in front of Baekyang Elementary School that he must have walked back and forth a few thousand times until he started to dream of becoming a singer. In its nearby area, you can also find Baekyang Middle School, where he attended before he moved to Seoul. Why don't you take a walk while listening to BTS's "Born Singer," a song about their feelings right after making their debut, "Ma City," famous for its lyrics including "the Busan Sea" and written by the members who are not from Seoul, and "Euphoria," Jungkook's solo song?

Mandeok Lego Village is located in the nearby area. This village's name stimulates your curiosity. If you look at the colorful roofs of the houses, you'll understand why it's called as such. The village was formed as it accommodated dwelling houses with orange roofs for 54 households in 1986. It's called Mandeok Lego Village because the view of these houses reminds you of colorful Lego blocks. It would be nice to listen to BTS's "Go Go" as you soak up the bright and lively atmosphere of the village. It's famous among photographers for its unique atmosphere. As this is a residential area, silence must be observed.

One of the famous tourist destinations in Mandeok where Jungkook was raised is Mandeok Duck Folk Village. This place is a famous food alley in Busan and is filled with the smell of grilled marinated duck from restaurants all along the street. In this duck folk village that attracts hungry travelers, feel free to enjoy grilled marinated duck with fragrant chives. That way, you can enjoy a delicious hearty meal that can even compete with a sumptuous feast.
If you want to escape from the city, you should head to Byeongpungam Seokbulsa Temple. Named after the fact that the cliffs surrounding a temple are like a folding screen, Byeongpungam Seokbulsa Temple provides a panoramic view of Maneok-dong. The beauty of the stone Buddha carved into the cliff makes the temple more mysterious. This is a perfect fit for you if you want to enjoy quiet relaxation under rock cliffs. Listening to BTS's "Butterfly" out in nature, you'd feel as if you were in a scene from a BTS music video.
Jungkook made his debut at a young age compared to the other members. For him, it all began right here in Busan. And his time spent in Busan is right here in Mandeok-dong.
Related Tags
Recommended Tour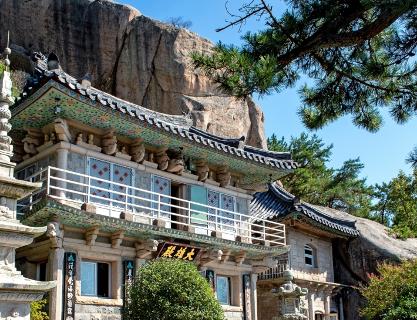 1

Buddha's aspiration perched on natural rocks—Seokbulsa Temple!
Among the beautiful sights in Busan, the ridge from Geumjeongsan Mountain to Baegyangsan Mountain is the most spectacular. Seokbulsa Temple, located on the ridge, is a quiet temple surrounded by 100 m high rock walls.
#ViewPoint #BusanTour #BusanTemple #Temple #PlaceToVisitInBusan #Healing #ForestTour #ByeongpungamRock #Seokbul #BusanViews #Stroll #Tracking #MandeokSeokbulsaTemple #BeomeosaTemple #RecommendedTour #WithFamily #UniqueExperience #SeokbulsaTemple
There is no registered content.
There is no registered content.
There is no registered content.
Ratings

{{item.star_grade}}
null
Like
{{item.like_cnt}}
null
{{item.visit_yn == 'Y' ? 'Visited' : 'Did not visit'}}