Enjoy Busan through bike tours.
Ratings

No rating

Views

20973

Review

0
Busan encompasses the sea, mountains, and rivers. Thanks to this natural environment, Busan can offer various experience programs tailored to people's preferences. In particular, riding a bicycle along rivers and streams in Busan is another way of enjoying the city.

Of course, to enjoy Busan by bike, you must have one. Do not worry if you do not have your own. A total of 12 public bicycle rental services are available free of charge or at an affordable price in different venues, such as Samnak, Hwamyeong, Maekdo, Daejeo Eco Parks, Spo1 Park, Jwasuyeonggyo Bridge, Eulsukdo Island, Oncheonjang Station, Oncheoncheon Park, and Millak-dong.

Let us introduce the top five riding spots in Busan that are loved by riders.

Eulsukdo Eco Park
Eulsukdo Eco Park Bike Path, running along the riverside of the leisurely flowing Nakdonggang River, features lush vegetation in summer and swaying reeds in late fall. It is a pleasing experience to feel the breeze tickling your cheeks while riding a bike on a sunny day with clear skies. At sunset, you can become a rider running toward the golden hour, which is a magical time when everything in the world turns beautiful and picturesque.
Hwamyeong Eco Park
Hwamyeong Eco Park has been loved by riders because of a straight and smooth stretch of a bicycle path. The cool river breezes felt while riding a bike on the path through the lush vegetation will add to the exhilaration. In particular, it is a fantastic experience to ride through a green tunnel made by weeping trees.
Daejeo Eco Park
Another bike path is in Daejeo Eco Park, teeming with canola flower in spring and the pink muhly grass in autumn. The path runs along a straight tree-lined road, leading to an endless cherry tree tunnel. Why not slow down and pedal slowly to breathe in the refreshing scent of nature? Or stop for a moment, listening to the sound of the bamboo forest rustling in the breeze.
Suyeong Riverside Road
The Suyeong riverside, which runs between Haeundae and Suyeong, is where you can enjoy the unique charm of urban cycling that you cannot experience on the Nakdonggang riverside. Rather than speeding up, you should pedal slowly, adjusting the intensity levels, to experience the attraction. The well-maintained bike path along the Suyeonggang River makes you feel refreshed. You can also relax in APEC Naru Park on the riverside. Otherwise, you can enjoy a leisurely ride to Gwangalli Beach.

Oncheoncheon Park
Oncheoncheon Park Bike Path, which runs along the Oncheoncheon Stream, Busan's major urban stream, is where you can experience the attraction of the stream while riding comfortably. This path is not popular for cherry blossoms in spring, but it is where you can enjoy cycling all year round. Oncheoncheon Café Street is also well established, so this park is a perfect place for you to relax and enjoy a romantic time while riding a bike.
Even the same place gives you different feelings and memories, depending on who will accompany you on the trip and how you will enjoy it. You can come to those venues for a picnic or a walk, but biking through Busan will be a unique experience, won't it?
Related Tags
Recommended Tour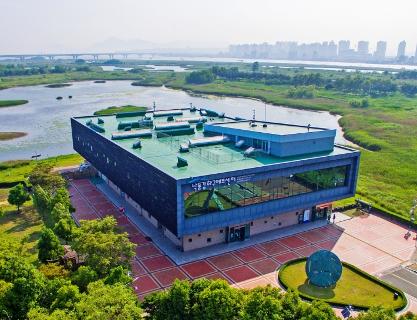 1

Eulsukdo Island, a beautiful cultural feast with migratory birds
It is a place where the main stem of the Nakdonggang River and the seawater of the South Sea intersects with each other, an ecological repository of rich soil and freshwater fish and shells, and a large-size winter home to migratory birds looking for enough food. Let's visit Eulsukdo Island, one of Busan's most beautiful islands.
#BusanTour #PlacetoVisitinBusan #BusanTourRoute #BusanAttraction #NakdonggangRiver #EulsukdoIsland #BusanRomanticDestination #EulsukdoEcoPark #BusanGalmaetgilTrails #NakdongEstuaryEcoCenter #SunsetPoint #WithChildren #WithFriends
There is no registered content.
There is no registered content.
There is no registered content.
Ratings

{{item.star_grade}}
null
Like
{{item.like_cnt}}
null
{{item.visit_yn == 'Y' ? 'Visited' : 'Did not visit'}}